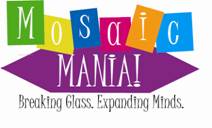 More than 2,000 students in grades 3-6 are taking part in this year's area-wide art project, "Mosaic Mania! Breaking Glass, Expanding Minds." The project, now in it's fourth year, is intended to promote creativity among youth and showcase rural Minnesota's commitment to the arts.
Classrooms of students from Circle of Life, Detroit Lakes, Frazee, Home School Groups, Lake Park-Audubon, Perham, and Waubun-Ogema were all invited to take part in the project. Students learn the art of glass mosaics by making a 5"x5" glass mosaic they will keep. As well as learning that working together as a team, they can create beautiful class projects.
Mosaic Mania's class projects will culminate in a display and silent auction at the community picnic scheduled for May 19thth from 4:00-7:00 p.m. at the DL City Park and Pavilion. 50% of the money raised from the silent auctions will go back to support children's programming at the DLCCC,and 50% of the money raised will go back to participating schools. The DLCCC operates an After School Program in which children participate in hands-on arts and fitness activities, the Holmes Theatre annually presents 4-6 children's shows attended by thousands of area school children at a reduced rate, as well as provide funding for future outreach projects with area schools.

If you would like to place a bid on a mosaic window and are unable to attend the picnic, you may contact the Holmes Theatre at 844-7469, and give your proxy bid amount. Area volunteers will place your bid(s) for you at the community picnic.

Mosaic Mania is part of the Historic Holmes Theatre BTD Community Connection series. Various businesses have donated supplies for the art project. Glass was generously provided by Spectrum Glass Company. Daggett Trucking provided transportation of the glass free of charge. Glass for the 5"x5" individual projects has been provided by Beug's Ace Hardware, and Fargo Paint and Glass. Glue was provided at a reduced rate by Beug's Ace Hardware in Detroit Lakes. The following area businesses have also shown their dedication to the arts for our area students by sponsoring one or more classes for $100.
For more information, please contact Becky Mitchell at 218-844-4221 Ext. 117 or email becky@dlccc.org.

Thank you for your continued support to Mosaic Mania !