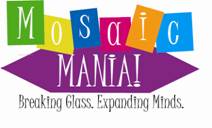 More than 1,500 students in grades 3-6 are taking part in an area-wide art project, "Mosaic Mania! Breaking Glass, Expanding Minds." The project is intended to promote creativity among youth and showcase the area's commitment to the arts.
Classrooms of students from Circle of Life, Detroit Lakes, Frazee, Lake Park-Audubon, Perham, and Waubun-Ogema have all been invited to take part in the project.
Detroit Lakes was chosen to be "Capital for a Day" as part of the Minnesota Sesquicentennial Celebration, and the surrounding areas that contribute to the success and beauty of the region will also be a big part of the celebration.
Mosaic Mania will culminate in a display and silent auction at the "Capital for a Day" community picnic scheduled for May 14th from 5:30-7:00 p.m. at the DL City Park and Pavillion. All money raised from the silent auctions will go back to support children's programming at the Detroit Lakes Community and Cultural Center. The DLCCC operates an After School Program in which children participate in hands-on arts and fitness activities, the Holmes Theatre annually presents 4-6 children's shows attended by thousands of area school children at a reduced rate, as well as provide funding for future outreach projects with area schools. If you would like to place a bid on a mosaic window and are unable to attend the picnic, you may contact the Holmes Theatre at 844-7469, and give your proxy bid amount. Area volunteers will place your bid(s) for you at the community picnic.
Various businesses have donated supplies for the art project. Glass was primarily donated by Kokomo Glass and Harmon Glass Doctor, with additional supplies donated by Ace Hardware in Moorhead, Detroit Paint and Glass, Lynette Conmy of Jack Chivers Realty and The Glass Lady. Glue was donated by Weldbond Corporation and Beug's Ace Hardware in Detroit Lakes. The name plates for the windows have been donated by Tropy House. The following area businesses have also shown their dedication to the arts for our area students by sponsoring the class projects for $100.
American Family Insurance-Jim Hedstrom
Dr. Bruce Conmy
Floral Impressions
Lake Park Cuba Insurance
Land O' Lakes Purina Foods
Newman Manufacturing
Seaberg Power Sports
TEAM Industries
West River Dental

Baker Hogan Houx
Dynamic Homes
Hamann Dentistry
Lakes Mortgage
Meritcare Detroit Lakes
Paul Davis Restoration
Smith Family Dentistry
Travel Travel of Detroit Lakes

Cenex Community Co-op of Lake Park
Detroit Lakes Ford Chrysler Dodge
Kuhns Law Office
Lynette Conmy, Jack Chivers Realty
Mosaic Consulting
Greg and Marcia Potvin
State Bank of Lake Park
Wagner Insurance

For more information, please contact Becky Mitchell at 218-844-4221 Ext. 117 or email becky@dlccc.org.

Thank you for your continued support to Mosaic Mania !