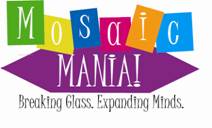 Mosaic Mania! Breaking Glass, Expanding Minds is an ever growing art outreach project intended to promote creativity among youth and showcase rural Minnesota's commitment to the arts.
Classrooms of students from around the region are annually invited to take part in the project. Students learn the art of glass mosaics by making a 5"x5" mosaic that is theirs to keep. As well as a class project done on old window sash. The windows are gathered and donated by community members.
Mosaic Mania class projects culminate in a display and silent auction at Parkfest held in May at the Detroit Lakes Pavilion in May each year. 50% of money raised from the silent auctions will go back to support children's programming at the DLCCC with the other 50% going back to participating schools to support arts programming. The DLCCC operates an After School Program in which children participate in hands-on arts and fitness activities, the Holmes Theatre annually presents 4-6 children's shows attended by thousands of area school children at a reduced rate, as well as provide funding for future outreach projects with area schools.

If you would like to place a bid on a mosaic window and are unable to attend the picnic, you may contact the Holmes Theatre at 844-7469, and give your proxy bid amount. Area volunteers will place your bid(s) for you at the community picnic.

For more information, please contact Becky Mitchell at 218-844-4221 Ext. 117 or email becky@dlccc.org.

These activities are made possible by the voters of Minnesota through grant received by the Lakes Region Arts Council thanks to a legislative appropriation from the Arts & Cultural Heritage Fund.